We are family owned and operated and have been taking care of our clients for over 24 years! We were established in 1995 by Charlie Duncan. Patrick Duncan (Owner), has been following in his fathers footsteps learning the business since he was 15 years old. He knows the business inside and out and is passionate about his company and clients. His energetic attitude and knowledge has brought the family business to the next level. He has brought together unusually good people, service, and quality. Not just words. Actions.
We are dedicated to keeping our clients and their businesses and/or homes safe and secure. We are experienced and we love doing what we do. You can rest assured that our work is accurate and secure so that your business is protected.
Need a repair, new doors, an access control system, or high security keys? We can do that and much more! Our technicians are professionally trained and take pride in their craftsmanship. Having issues with a door closing or locking after hours? Not a problem, we even offer 24-hour emergency service. Your security is our top priority.
We not only want to protect your business, but you're home too. We now offer affordable and top of the line security solutions for your home. Our fully trained sales team and technicians can help you find the perfect security system to fit all your needs.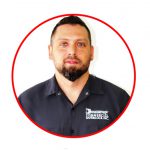 Try us risk free! We stand behind our products and craftsmanship. If you are not 100% satisfied with our work, we will do whatever we need to do to fix the item in question.
Services include: Commercial, industrial, and financial institution locksmithing, door and frame tear out and replacement, light construction projects, access control systems, home security and more. Get in touch for full details or call us at 636-282-5625.