When it comes to banking, you want your branch to be safe and secure. At Commercial Safe and Lock, there are many ways we can help.
We specialize in:
Access Control Systems: We have many options to find the best system for you. An Access Control System is a system that manages access through the authorization or revocation of rights to physical or logical assets within an organization.
Safety Deposit Boxes: We drill out and install new boxes, rekey, and repair.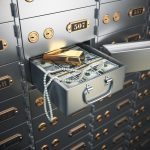 Vaults, Combination, and Safes: We install, repair, and rekey.
We also keep you updated on annual battery changes for your locks, and annual combination changes.
Protecting and securing your business is our number one priority. Our technicians are precise and work efficiently, so that your business is always protected. 24-Hour Emergency service is available!